Making Your Kombucha Fizzy – With Ginger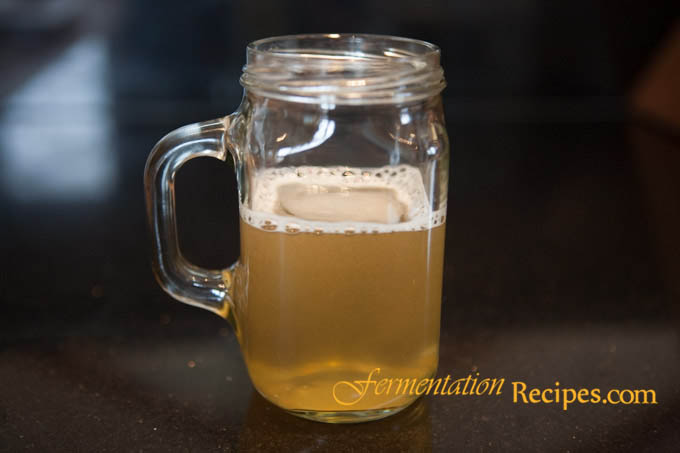 If you are anything like me, you much prefer your kombucha to have some carbonation. I've struggled some with that over time but now, after probably 50 gallons of kombucha making experience, including various relatively scientific experiments, I've figured out a simple and dependable way to make a nice fizzy kombucha.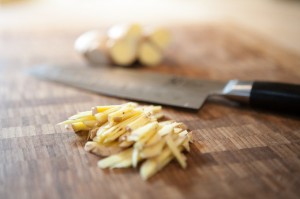 Firstly, make kombucha which I'll describe below, but secondly bottle it with some added fresh ginger and let it sit in a secondary fermentaiton for another week. The result will be a carbonated kombucha treat. Lactobacillis bacteria and wild yeasts live naturally on Ginger. These feed off the sugars in the bottled kombucha and adds carbonation as a by-product. As we want a healthy culture, it is important to use organic ginger so that is hasn't been treated with pesticides or irradiated.
Preparation Time: 40 minutes
Fermentation time: 7-10 days for initial ferment plus 7 day secondary fermentation
Yield: 1 gallon
Ingredients:
1 gallon water
1/8 cup black tea leaves (or 4 tea bags)
1 cup sugar
Fresh organic ginger cut into matchsticks, not peeled (approx 1 Tbsp per 16oz bottle)
Turmeric powder (1/4tsp per bottle) – optional
Directions:

Make tea using the water and tea. If your water is chlorinated, you'll need to simmer it for 15 minutes to offgas the chlorine
Remove the tea or tea bags
Pour into vessel you will be using to make the kombucha – I like using a 1 gallon Anchor Hocking cookie jar ora 2 gallon one
Add sugar and stir to dissolve
Once the tea is approximately room temperature, add the SCOBY (

S

ymbiotic

C

olony

o

f

B

acteria and

Y

east). If you add the SCOBY while the water is hot, you'll risk killing it
Cover with a clean cloth and leave at room temperature
Taste it after a week. If it's too sweet, let it go longer. Once it has a sweetness/tart flavor balance that you like you are ready for bottling and the secondary ferment. Note that the cooler the environment, the longer the time needed for fermentation
Here's the secondary fermentation part where you add the ginger:
Pour the kombucha into the bottles you wish to use. I like re-using Kombucha bottles from the store. You can see my favorite store-bought flavor here, Synergy's Raspberry Chia. You can also use plastic screw cap bottles as well, although I prefer glass.
Add approximately 1/2 Tbsp of fresh ginger per 16 ounces of kombucha. I prefer cutting the ginger into matchsticks as that shape goes into and out of the bottle easily, yet isn't as bothersome when drinking from the bottle.
Add an optional 1/4 tsp turmeric powder to each bottle.
Screw cap tightly.
Let sit 4 to 5 days as a secondary fermentation and enjoy. The longer you let it sit, the more carbonation will build up.
Caution, depending on your ginger, room temperature, sugar content of your kombucha and length of this secondary fermentation, the carbonation can be surprisingly strong. Best to refrigerate after 4-5 days rather than leaving it out indefinitely, and open cautiously.

If you haven't figured out by now, I'm a big fan of turmeric. I enjoy the flavor that it adds, but it's effect as a potent anti-inflammatory is something can be very valuable in fighting and preventing various diseases. Adding it to your kombucha is a great way to add it to your regular diet. Below is a link to a video which explains a study on the effect of various dietary spices on inflammation. Which Spices Fight Inflammation?
Enjoy in good health….. and fizz!