Fermented Spicy Daikon Radish Spears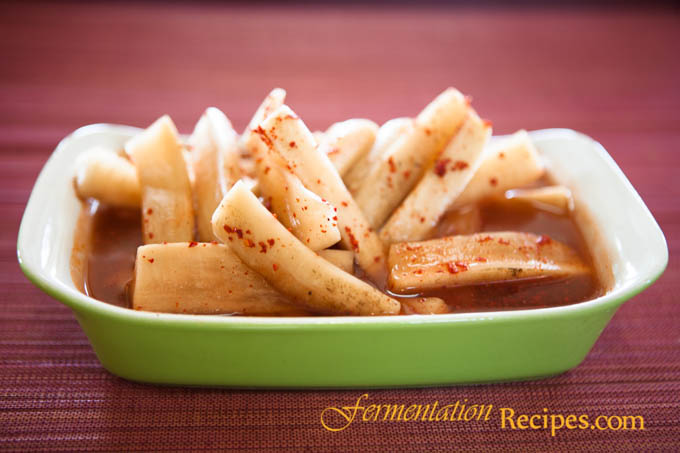 I love working with daikon and other radishes when fermenting because they tend to acquire a very nice sourness while retaining enough of their toothy crunch to satisfy our sensate (much better than "sin sick") souls. I'm also a fan of adding a little heat, although this recipe is reasonably mild.
Preparation Time: 20 minutes
Fermentation time: 4 weeks +
Yield: 3 pints
Ingredients:
1 lb daikon radishes cut into spears (approx 1/2″ thick x 3″ long)
Brine of 2T sea salt and 2 cups water
2T Red pepper powder (I used Korean Red Pepper as described in my Traditional Korean kimchi recipe)
Directions:

Clean the daikon by scrubbing lightly under running water. In order to allow some of the bacteria naturally found on the daikon to remain for the fermentation, you want them cleaned well but not scrubbed to an immaculate finish
Cut the daikon into spears, approximately 1/2″ thick by about 3″ long.
Dissolve the salt into the water to make a brine
Place everything in a wide-mouth glass jar or other fermenting vessel.
Due to the salt in the water which breaks down some of the cell walls, additional water will leach from the daikon. Place a weight of some sort on the veggies to keep pressure on them and to encourage the liquid level to rise above the veggies. I've been using a clear plastic produce bag with about 1 quart of water in it as a weight. Make sure the bag doesn't leak before using it. I learned that the hard way! It's important when sealing the bag to leave some looseness in the bag rather than filling it tightly with air. The looseness will allow the bag to settle and conform to the shape of the fermenting vessel, thus making a perfect seal which keeps air out but allows gasses to escape as needed. I've also used 1/2 gallon bottles filled with water as a weight too.
Cover with a towel
Let it sit for 4 weeks tasting regularly as you go to get a feel for how the flavor changes.
Jar it up, packing the container vertically as you would with pickle spears. Cover with the brine.
Refrigerate to significantly slow the fermentation.
Once I bottled these up and refrigerated them, I left them in the refrigerator for several months before digging them out and trying them again. The long slow cool ferment added a ton of flavor and made these even more delectable. Great served as a zingy spicy compliment to salads or as an interesting appetizer. For you imbibers out there, this would be great as a spear in your Sunday Bloody Mary or perhaps in a creative martini.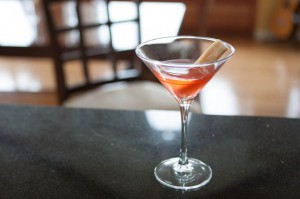 Cheers!