This one is very easy, and just goes to show you that the basic principals of fermentation can apply to all sorts of foods. I simply made a brine and put the ingredients in and let it sit and stew. This one is simply great for preserving. I made these perhaps 4 months ago and I still have some in a jar in my refrigerator. Great technique for storing an overabundance of veggies and keeping them until ready to consume. These get a little richer flavor too from the garlic and onion.
Preparation Time: 10 minutes
Fermentation time: 2-3 weeks
Yield: as much as you make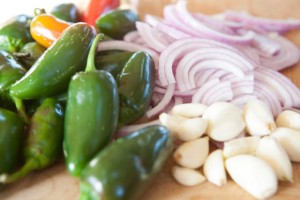 Ingredients:
15-20 fresh whole jalapeno peppers
2 dozen garlic cloves peeled
1/2 red onion peeled and sliced in thin ribbons
3 Tbsp salt
4 cups water
Directions:
MIx the salt in the water until dissolved to make a brine
Wash the jalapenos. Although I haven't tried this, you may want to slit the jalapenos open so that the brine and fermentation can happen more readily inside the peppers and not just from the outside
Place the japapenos, garlic cloves and sliced onion in a fermenting vessel ( a 1Quart canning jar would work fine or a large mouthed glass jar or crock is fine too). Pour brine over to fully cover and then some. If you do this in a mason jar, fill to the top and very loosely screw the lid over it so gasses can escape. If in another vessel, place a plate or a weight on the goodies if necessary to keep them submerged. Cover with a towel.
Let sit on your counter for several weeks.
Move to refrigerator for longer term storage, although my sense is that these would keep on the counter continuing to ferment for months.
Jalapenos are purported to have various beneficial health properties including anti-inflamatory, cancer fighting/prevention, cardiovascular benefits, metabolism boost and migraine relief. I use these jalapenos in curtido A wonderful side benefit of this is that you end up with some nice and spicy garlic and onions to use as condiments in other dishes. My friend Molly eats these jalapenos straight from the jar. She's clearly much braver than I am.